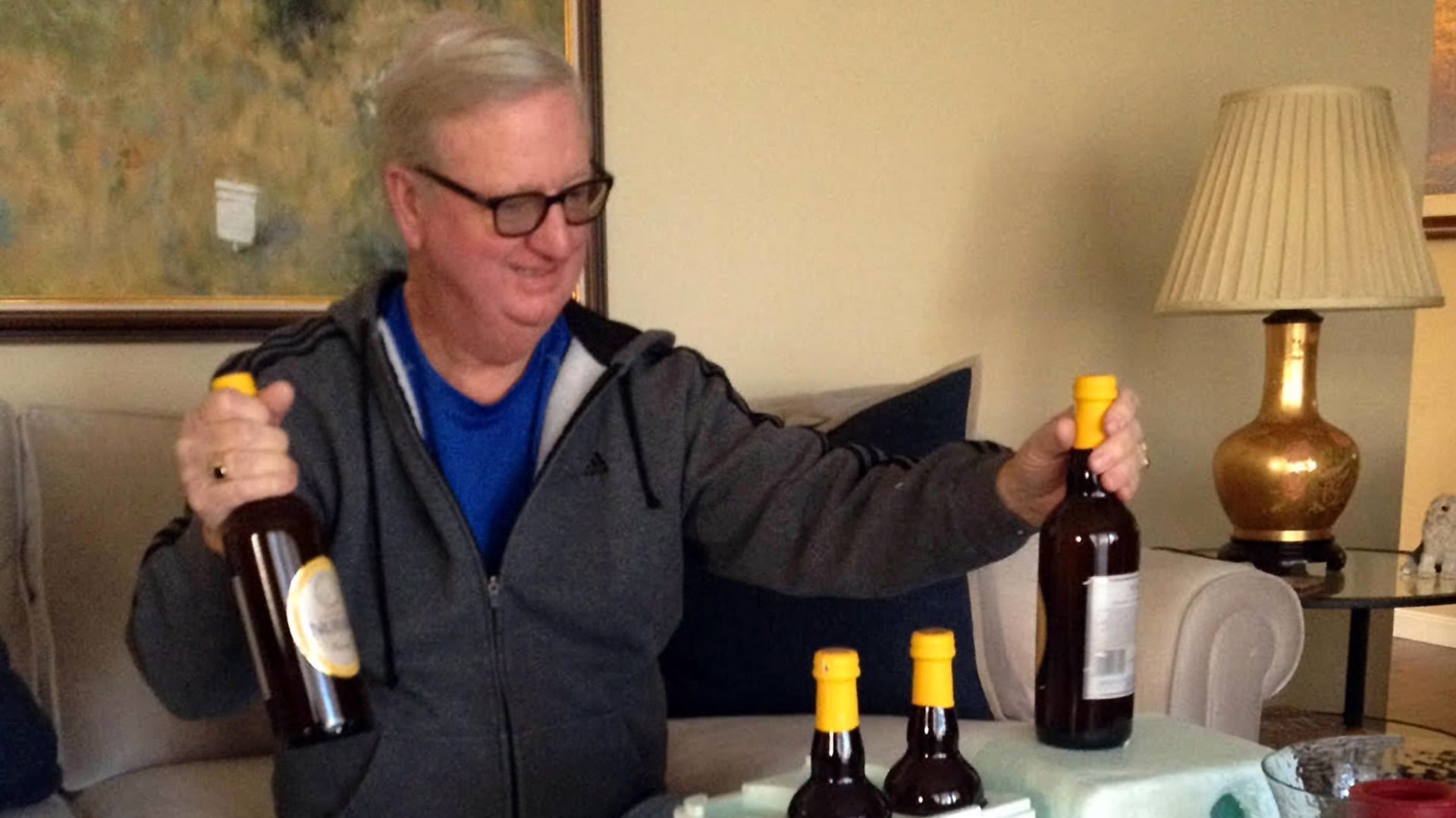 29 Jan

Birra Nursia's first U.S. customer

ALTADENA, California — Kerry Harahan of Altadena, Calif., discovered the Monks of Norcia on CBS Sunday Morning Jan. 17 while her daughter was channel surfing. The broadcast featured a piece on the monks' chart-topping album Benedicta. As soon Harahan heard the Gregorian chant, she zeroed in on the story.

Harahan's father, Bruce McGagin, lives hours away in the northern part of the state and had been suffering from a failed knee-replacement surgery and was awaiting another operation. She had been looking for the perfect gift to give her father to help him through his ordeal.

The CBS story mentioned that the monks had started a brewery, and when she heard that they had a blonde, she knew exactly what would make her father feel better.

"He can relax and listen to the CD and then he can have a glass of beer and then he would just be completely transported away from what he's dealing with."

Birra Nursia's American Online Store would not launch until Jan. 22, almost a week after the CBS story. But Harahan, who has a background in research for political campaigns and public relations, said she was determined to find the beer.
"I was so excited that finally I found the right thing to get my dad that I was going to get it," she said.
Harahan took to Google and, one click after the next, managed to discover a draft version of Birra Nursia's American Online Store. She immediately placed an order.
Though the monks' would not be fulfilling orders until mid-March, when they read the note of encouragement Harahan had attached to the order for her father, they decided to fulfill it immediately.
The four bottles of Birra Nursia Bionda arrived at the McGagin residence Jan. 26.
"It was heavenly," McGagin said after trying the beer. He enjoyed a full 750mL bottle with his wife over a dinner of ham and Gruyere tart.
"I
'

ve had a lot of European beers," he said, reflecting on the different monastic beers he had once tried in Eastern Europe, but Birra Nursia "was superior… it was a much better beer."


"It is a beautiful golden straw color," he said of the beer, "it has that unfiltered look to it."

"It's a soft beer in the mouth and just very delightful," McGagin said.

After trying Birra Nursia Bionda, McGagin said he was ready to try the dark "Extra" brew, though he is usually not a fan of darker beers.
"This was so good, I
'

ve got to try the dark next," he said.


McGagin will soon be required to eliminate alcohol from his diet on account of his upcoming surgery, but he is not worried about finishing his four bottles of Birra Nursia in time.

"Those are large bottles," he thought at first, but then realized, "Oh my goodness, I went through that first bottle fairly quickly."
"It is kind of like having the monks in your house, right? They are chanting, they are brewing for you," Harahan said.

Commenting on the brewery's motto, "Ut Laetificet Cor," which is the Latin for "That the Heart Might be Gladdened," Harahan said that that was exactly the effect she was hoping for.
"I don't know how you couldn't have your spirits lifted," she said.
For more information about Birra Nursia or to place an order, visit birranursia.com.